The switch which is controlled by the CPU feeds the signal from the certain side of the bridge to the detector chip. When the load is totally active and its resistance is 50 Ω, the bridge is balanced and the switch outputs the same signal in both positions. This eliminates the need of calibration of the analyzer, also giving very good precision near SWR=1.
The detector compares the output of the switch with a reference 90° signal. This avoids "dead zones" in the phase characteristics of the AD8302 chip. The outputs of the chip are connected to the analog-to-digital converters which are built into the microcontroller.
Connector issue
For the good performance at high frequencies (above 50 MHz) is it important to built almost an ideal, symmetrical bridge. However, the load is plugged into the analyzer through the connector (non-ideal electronic part), which slightly unbalances the bridge. To compensate parameters of the connector, a simple model was chosen: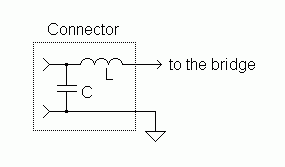 The microcontroller takes into account tiny capacitance and inductance of the connector, correcting the result of each measurement.