This product is discontinued.
---
RigExpert Tiny
USB Soundcard Transceiver Interface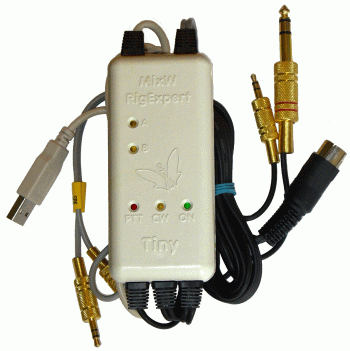 Introduction - Open this page to see what this interface is.

Downloads - Download user's manual and drivers.

Visitors' comments
Comments: 14. Page 1 of 1. Add new.
Luke Italy

Postd at 7:01pm on Sunday, May 3rd, 2015

I want to know if it is possible for Tiny to works with Yaesu FT-991. Thanks.



Joaquim Rangel Codeço Brasil

Postd at 4:44am on Thursday, November 8th, 2012

What is need to a Tiny wired to IC718, works with IC746PRO ?



Mario Rossi Italy

Postd at 5:15am on Thursday, August 11th, 2011

What is the right version of Tiny Interface to use with a Yaesu FT-450D?



Rudy Honduras

Postd at 8:56pm on Tuesday, November 23rd, 2010

I have a Yeasu FT-920at, ist chance to operate with TINY ?

Administrator comment: There is no RE Tiny for this rig - however, you may use the RS-232-1 model with COM connector changed to the male type.





tony n wales

Postd at 2:27pm on Wednesday, November 3rd, 2010

hi will this work with ft757 gx and windows xp many thanks Tony

Administrator comment: Please see the list of available models - the FT-757 is not there.





Stan Poland

Postd at 11:56am on Friday, August 27th, 2010

I have Yeasu FT-890, ist chance to operate with TINY ?

Administrator comment: Unfortunately, there is no RigExpert Tiny for the FT-890.





Rafael Spain

Postd at 8:54am on Tuesday, May 25th, 2010

I can not use RigExpert Tiny with Fldigi under Ubuntu 64bit and FT897.
I like Linux.
Thanks.



Kshitij Mathur Pune India

Postd at 1:26am on Wednesday, November 4th, 2009

Can it be used with Kenwood TS 520SE, if yes then from where the connections are to be given to this Rig expert from Tansceiver

Administrator comment: Dear Kshitij, I am afraid the TS-520E is not in the list of supported rigs so it will not work with RE Tiny.





satyan sarath / vu3mes chennai - india

Postd at 5:20am on Friday, June 26th, 2009

i wanted to get one rig expert tiny for my 857d, but every time i try to make payment with my master card it is getting rejected, any help pls?

Satyan

Administrator comment: Dear Satyan, please mail to the specific distributor you wish to buy the interface from.





Jose Bernardino Santa Maria, Azores

Postd at 4:29am on Saturday, June 6th, 2009

I have an Alinco DX-77. Any chance to operate with this radio???

Administrator comment: Since all cables are hard-connected to the RE Tiny, we are manufacturing a limited number of models of this interface. Unfortunately, we have not included DX-77 in the list of supported radios yet.





Bob Ney KB7BU/VA7VCA Peachland BC

Postd at 1:47pm on Friday, June 5th, 2009

I am having the same problem as NR7X. I have gone to Control Panel and removed MixW at least ten times and started the install procedure over with the same result, I get to the point where I connect the device to an available USB port and then wait forever for the computer to tell me the drivers are installed. Nothing ever happens. I have made certain that the USB port is connected directly to the board buss since I know that can affect the outcome. Makes no difference.

My Tiny is S/N 0419 Ver. 1.3 Model TTL-1

Can you help me??

Administrator comment: I am sorry to hear about this... The version of the USB chip driver included on the CD seems to be conflicting with later Windows updates. You may try fresh versions of the VCP driver which can be found on the USB chip manufacturer's website, www.ftdichip.com .





Don Tuite (NR7X) Calif. USA

Postd at 2:42pm on Wednesday, October 15th, 2008

Any reason the driver installation would hang up after plugging the Tiny into computer? (New Dell Mini-9 sub-notebook, Running XP. Installation from external USB CD-R drive. Mini-9 has only USB ports. Instalation preceeds normally up to point at which SW asks mw to plug in RigExpert Tiny. Then I get the "wait" screen & nothing happens. When I finally click "next," the program says it completed successfully, but when I exit, it says the
rigexpert is not present and if I run MixW, it doesn't know about it.

73
Don dtuite@penton.com



RATKO KNIC

Postd at 10:24am on Saturday, October 11th, 2008

WHAT IS PRICE TINY MODEM
PLEASE INFO TO ME
RATKO yu1nr@ptt.rs



FILIPPO italy

Postd at 1:17pm on Tuesday, September 23rd, 2008

Please inform me were i can buy the interface rigexpert TINY (i prefer italian store, if any).
Pse send an e-mail to this address:

iw7dtk@alice.it

grazie! tnk

Administrator comment: Filippo, please see the Distributors page - you may find all our distributors listed there.