This product is discontinued.

---
RigExpert Standard

USB Transceiver Interface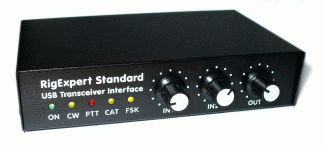 Visitors' comments
Comments: 25. Page 1 of 1. Add new.
Mecom Spain

Postd at 5:16am on Saturday, December 26th, 2015

@ Hank Foglesong Montrose, CO, USA

I am glad that you finally worked your Rigexpert Standard, in W8, kindly share your procedures how to configure it out ?



Hank Foglesong Montrose, CO, USA

Postd at 9:30am on Sunday, July 19th, 2015

The problem I described in my posting of July 17, 2015 (unable to properly install ports com5 and com6 under windows 8.1) has been solved. An additional simple step in the installation process is required.



Hank Foglesong Montrose, CO, USA

Postd at 4:21pm on Friday, July 17th, 2015

I initially installed Rig Expert Standard over a year ago in Windows 8.1, and had some difficulty having all 4 com ports install. After a number of tries, I finally got all ports, and the interface worked fine. Recently, after some computer work, I needed to reinstall Rig Expert, and after a number of tries, have been unable to get com ports 5 and 6 installed. From other notes I see, there are some problems with Windows 8.1, perhaps. Any suggestions would be welcome.



Aris Western Europe

Postd at 2:36pm on Sunday, May 3rd, 2015

Hi, I just installed my rigexpert (standard) on new PC with Windows 8.1 (64)..no luck to find compatible driver.. thanks



Fernando - IZ0EUI Italia

Postd at 11:46am on Friday, February 14th, 2014

I recently bought your RigExpert Standard. I have problems with Linux (FLDIGI) configuration.
The TRX are a Yaesu FT-817 and a Icom IC-7 MKIIg.
Anyone can help me ?

Tnx

Fernando - IZ0EUI



Kai oh6efh Finland

Postd at 11:52am on Friday, May 17th, 2013

Ostin rigexpertin ja riginä icom ic-735, hienosti toimii!



Jesús Gutierrez. EA1YR

Postd at 1:12pm on Thursday, March 14th, 2013

Tengo su RigExpert Standard. Funciona bien con varios programas. El problema es que, estando con un programa, o simplemente conectado al PC, tiene una intermitencia cada 2 minutos aproximadamente con la siguiente carencia: se conecta el CAT; a continuación los led de CW y PTT y después conecta los led PTT y FSK, en este caso, dos veces. De nuevo a los dos minutos, la misma carencia y así sucesivamente. Desinstalé el programa y vuelto a cargar varias veces, pero sigue esta carencia.



DJ DG3RCE Germany

Postd at 10:54am on Saturday, January 5th, 2013

Installed the RigExpert on my Lappi was very simple and
working very fine with the FT 570D
73



Enrique Rabczuk CP6UA Bolivia

Postd at 6:47am on Saturday, December 29th, 2012

PLease any comments about the setting of RigExpert and ICOM 756 send me by email.
Thank you



Enrique Rabczuk Bolivia

Postd at 6:41am on Saturday, December 29th, 2012

I have RigExpert Standard more than one year. All work ok. But now I want to interconnect to a WSJT (EME)and I try diferent setting and the result was negative. Some body have the correct setting? My equipment is: ICOM 756 + RigExpert.



EA5GTU Cartagena Spain

Postd at 7:22am on Wednesday, August 22nd, 2012

Mi RigExpert Standar funcionaba perfecto con Kenwood TS-570D con el MixW y ahora con el nuevo Iom IC-9100 el CAT no funciona



ea3kz Spain

Postd at 6:27am on Thursday, July 19th, 2012

Los interfaces RIGEXPERT funcionan sin problema con WIN7, en el area de descargas se puede descargar el CD de instalacion actualizado.

Saludos



benedicto san fernando, cadiz, spain

Postd at 11:05am on Saturday, November 19th, 2011

tengo un rig expert que funcionó bien con windows 98, ahora tengo un windows 7 y el controlador no lo reconoce. Windows me dice, codig 43
¿porque no lo reconoce?



Tuomo Anttila OH2NAF Helsinki

Postd at 8:54am on Saturday, August 13th, 2011

in the RigExpert DC I cant found any /Reaudio folder



juan carlos Spain

Postd at 1:53am on Saturday, May 7th, 2011

I have a standard RigExpert does not the cat, I have to do to fix it? this under warranty



juan carlos spain

Postd at 1:35am on Saturday, May 7th, 2011

tengo mi rigExpert standar y me ha dejado de funcionar el cat, que tengo que hacer?



Miguel Alicante

Postd at 10:45am on Thursday, November 18th, 2010

I have a Rigexpert Standar and use it since 2 years and working well, but now when I go to Show serial ports I only see the CAT port and PTT port ..and no more. Why it do not show me the 4 ports ??

Administrator comment: Please look in the Device Manager - maybe some of the serial ports are disabled there.





Bob Dickerson Philadelphia Pa.

Postd at 7:01pm on Wednesday, September 8th, 2010

Dont know if their is something wrong with my rig expert, but I cant get fsk at all using any software,help ?

Administrator comment: What is the particular problem with running FSK?





Enrique CP6UA Bolivia

Postd at 4:29pm on Friday, September 3rd, 2010

I had some setting problems with the S/D. Nick solved them very quick.
Now I am buying the Standard RigExpert and for sure it will be a success.



Thomas Misirgis SV2CLJ Skopelos Isl. - Greece

Postd at 2:00am on Tuesday, July 6th, 2010

Running more than 8 days at J48S dxpedition all the Digital Modes the RigExpert was SolidRock! Today i will buy the new model TI-5 ...



Tom KB7DQT Brinnon WA

Postd at 9:30am on Thursday, November 26th, 2009

I bought the regexpert standard instead of the Navagator so I could use TEOAN. With the virtual com ports I can't get it to work. I work with Clint KK7UQ and he is baffled. Help anyone?

Administrator comment: The TEOAN can only work with previous version of our interface, RigExpert S/D.





Don McDougall Winlock, Wa

Postd at 9:18pm on Sunday, June 7th, 2009

Administrator:
I don't have any palm software and no yellow exclamation points next to any com or lpt ports so maybe I'll have to go to the web site you suggested.

Don



Don Winlock, Wa

Postd at 9:44am on Thursday, June 4th, 2009

Rigexpert Standard and IC-756ProII

Problem with power up. After turning off the computer then rebooting I have to unplug the USB cable from the computer and plug it back in to get the CAT to work. Any suggestions or should there be a power on reset or a reset via the keyboard or some such?

Thanks
Don, W6OA/7

Administrator comment: Dear Don, There may be a conflict with some other program which grabs COM ports, such as Palm Handheld desktop software. Alternatively, if the Device Manager shows yellow question marks instead of COM ports, this may be a driver problem (in this case, download and install the last version of the VCP driver from the USB chip manufacturer's website, www.ftdichip.com .





Sixto Barcelona - Spain

Postd at 9:01am on Friday, May 29th, 2009

Hello Gentlemen :
I have acquired standard RigEpert, to use it with radio station Yaesu FT 950. It happens me that I receive well, but it doesn't transmit me. Could they guide me if there is some menu that should change? Or in their defect which the cause can be??
Thank you



Juan EA7CH Spain

Postd at 4:27am on Tuesday, January 20th, 2009

I recently bought your RigExpert Standard. I have also de Receiver Incon ic-r2500 and want to connect cthis receiver to your modem to decoder packet, rtty, ect trough you Winmix software. From your 25 pins conector which pins mmigh I use to connect the audio and the ground signals from icom, because in the RigExpert there is no a jack mono 3.5mm to connect the receiver to your Rig. Your great help will be highly appreciate. Juan EA7CH

Administrator comment: Dear Juan, you may find the required info at the "25-pin transceiver connector" page (see the menu at the left side of the main page of this website).